What is the COEN?
The COEN is a survey that interviews entrepreneurs each quarter about relevant topics, such as developments in turnover, profitability, investments, and staffing levels. Business owners answer questions about experiences in the past quarter and expectations for the current quarter. The business confidence survey combines various of these topics to identify an overall sentiment. This business confidence indicator is available for the Netherlands as a whole, and for various sectors and industries. Based on the results of the COEN, CBS also publishes monthly figures on producer confidence in the manufacturing industry.
3rd quarter, 2023 - business confidence indicator
Business confidence, the mood indicator of the Dutch business sector, reached -8.3 at the start of the third quarter of 2023. This is about the same as a quarter earlier when the indicator came out at -8.1. With this, business confidence remains negative since the beginning of 2022. In half of the industries, business confidence increases, in the other half it decreases. The largest increase can be seen in construction, the largest decrease in car trade and repair. In most industries, the mood is still negative.
Read about these expectations and conclusions in the COEN Netherlands Business Survey report (pdf, in Dutch) for the 3rd quarter of 2023.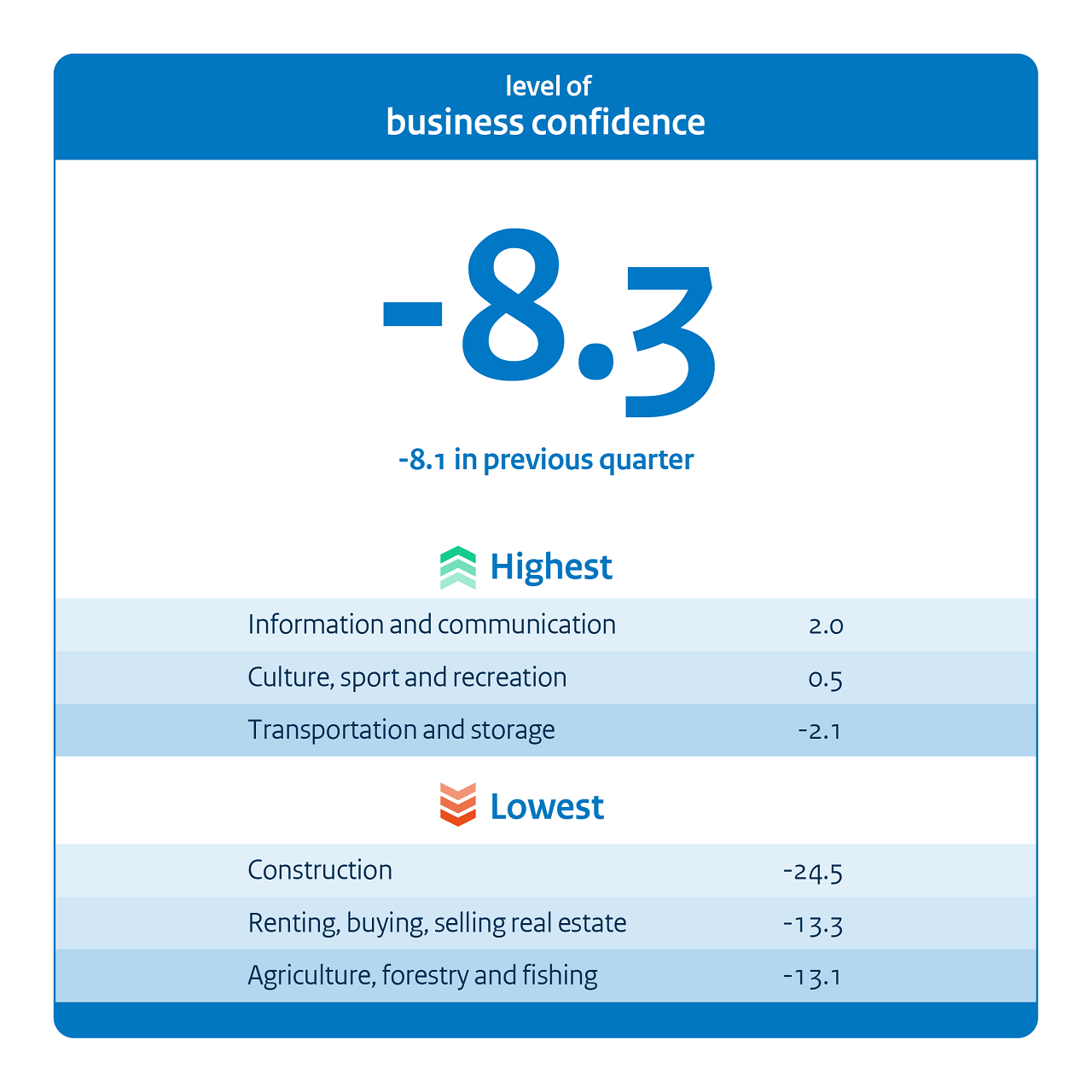 Business confidence fell from -8.1 to -8.3 in Q3 2023. Business confidence is now compiled using an updated methodology. The figures have been backtracked to January 2012. Visit www.cbs.nl for more information and explanations.
| Expectations | Obstacles |
| --- | --- |
| | |
| On balance, entrepreneurs are negative about the economic climate (-8.2%), purchase orders (-1.9%) and turnover (-1.0). Expectations for sales prices (10.3%), personnel (8.8%) and investments (0.9%) are on balance positive. | 40.6% of entrepreneurs experience labour shortage as the main obstacle in their business operations. The different barriers now add up to more than 100%. Entrepreneurs can enter a maximum of two answers for the obstacle question and previously the total percentage was normalised to 100%. This is no longer done, so the percentage represents the proportion of entrepreneurs who chose this obstacle. |
Next Business Survey Results
Business Survey Netherlands is a collaboration of CBS, EIB, KVK, MKB Nederland and VNO-NCW. The results of the Business Survey Netherlands for the 4th quarter 2023 are expected to be published on 15 November 2023. Data for the upcoming publication are collected in the month of October.