What is the COEN?
The COEN is a survey that interviews entrepreneurs each quarter about relevant topics, such as developments in turnover, profitability, investments, and staffing levels. Business owners answer questions about experiences in the past quarter and expectations for the current quarter. The business confidence survey combines various of these topics to identify an overall sentiment. This business confidence indicator is available for the Netherlands as a whole, and for various sectors and industries. Based on the results of the COEN, CBS also publishes monthly figures on producer confidence in the manufacturing industry.
4th quarter (2022) - business confidence indicator
Business confidence, the mood indicator of the entrepreneurial Netherlands, is at -0.9 at the start of the fourth quarter of 2022. This means that business confidence is negative again for the first time since the first quarter of 2021. Sentiment fell in almost all industries, with about half of them going from positive to negative. Business confidence fell the most in the Accommodation and food serving sector.
Read about these expectations and conclusions in the COEN Netherlands Business Survey report (pdf, in Dutch) for the 4rth quarter of 2022.
Click here for the report on the CBS website.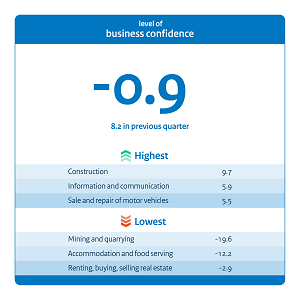 Business confidence fell from 8.2 to -0.9 in the fourth quarter of 2022. In the construction industry (9.7), Information and communication (5.9) and Sale and repair of motor vehicles (5.5), business confidence is relatively the highest. Entrepreneurs in mining and quarrying (-19.6), Accommodation and food serving (-12.2) and Renting, buying and selling real estate (-2.9) are relatively the most negative.
| Expectations | Obstacles |
| --- | --- |
| | |
| On balance, entrepreneurs expect an increase in turnover (13.7%), investments (3.4%), exports (9.6%) and personnel (16.2%) in 2023. | 36.4 % of entrepreneurs experience a labour shortage. Also, shortage of production materials, insufficient demand, financial limitations, and weather conditions form the other obstacles. 19.3% of entrepreneurs do not experience any obstacles. |
Next Business Survey Results
The Business Survey Netherlands is a cooperation between CBS (Statistics Netherlands), EIB (Economic Institute for Construction), KVK (Netherlands Chamber of Commerce), MKB Nederland, and VNO-NCW (Confederation of Netherlands Industry and Employers). The results of the Business Survey Netherlands for the first quarter of 2023 will be published mid-February. The data for the next publication will be collected in January.