Why measures against single-use plastics?
Plastic has many useful properties. But plastic waste is increasingly ending up in the oceans and seas (plastic soup). This can make fish and other marine animals ill. With the new Single-Use Plastics (SUP) guidelines, the European Union wants to reduce the plastic soup. The rules relate to the products that wash up most on European beaches. Good, affordable alternatives already exist for those.
Rules for disposable plastic cups and food packaging
Rules will be introduced for the use of disposable plastic cups and food packaging.
Customers will have to pay for disposable plastic cups and food packaging when they take out or have food or drink delivered.
For on-site use, there will be a complete ban on disposable plastic cups and food packaging.
Read more about the new rules for disposable plastic cups and containers.
Ban on single-use products and mandatory marking
Since 3 July 2021, there are a number of disposable plastic products you may no longer market. You must also print a marking on the product or on the packaging for certain products. Read more about the ban on single-use products and mandatory marking.
Deposit on small plastic bottles
Since 1 July 2021, small plastic bottles for soft drinks and water have been subject to a deposit (statiegeld). Read more about this at statiegeldnederland.nl (in Dutch).
Responsibility for producers
An extended producer responsibility (EPR) will apply to a number of products. This means that as a producer, you contribute to the collection of the waste and the clearing up of litter. The EPR will come into effect step by step from 1 January 2023. The scheme will be further developed.
EPR from 1 January 2023 applies to:
Tobacco products with filters
Single-serve food packaging
Disposable cups
Bags and wrappers
Light plastic carrier bags
Beverage packaging
Balloons
Wet wipes
EPR as of 31 December 2024: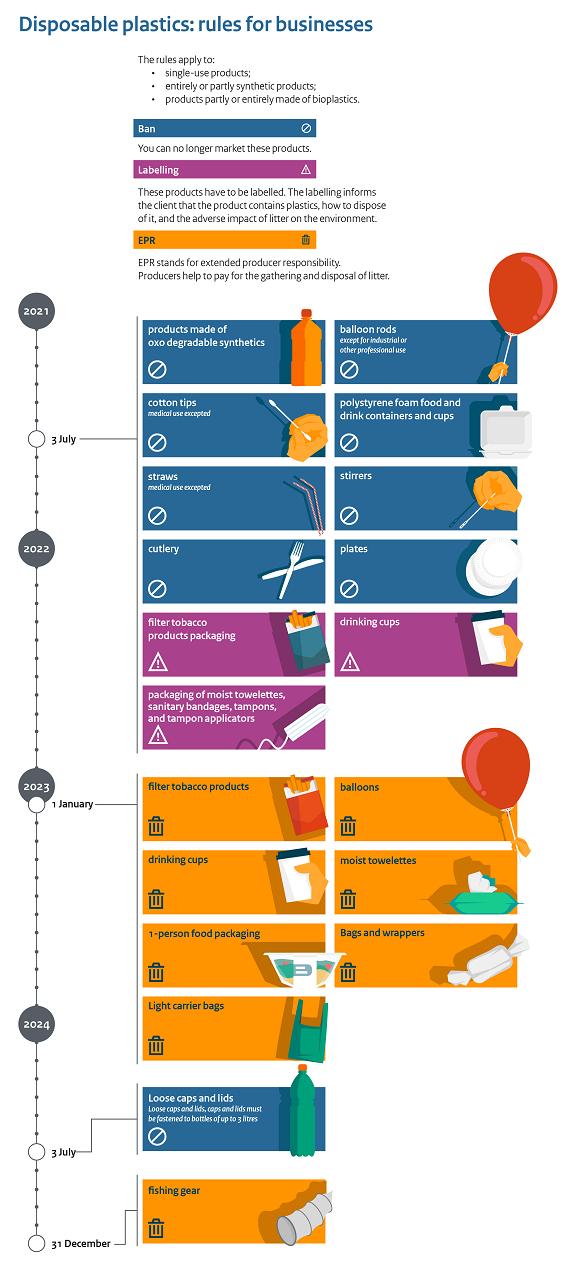 Rules for bottles and beverage packaging
For bottles and beverage containers, the caps must remain attached to the bottle or container during use. This rule will take effect from 3 July 2024.
This does not apply to:
bottles and beverage packaging for medical use
bottles and beverage packaging of more than 3 litres
From 2025: bottles made from recycled material
From 2025, 25% of the material of a PET bottle (polyethylene terephthalate) must consist of recycled material.
From 2030, 30% of the material of all bottles must be recycled.
The exact effective date of these rules is not yet known. The European standardisation body is still working out exactly what conditions the products must meet.
Frequently Asked Questions
Plastics are:
All polymers that do not occur naturally.
Natural polymers that have been chemically modified.
This definition also includes products made from biobased and biodegradable plastics. And products (such as wet wipes) made from viscose.
The European Commission has published a manual that Member States can use to assess if products are made of plastic.
If a product is not made, designed, or marketed for reuse. For example, it is not sturdy enough to clean for reuse. Or the product cannot be put in the dishwasher.
The products that are prohibited from 3 July 2021 may no longer be offered on the market in the Netherlands from that moment on. You may still sell or use existing stocks if you have a shop or wholesaler, as these products have already been put on the market. Orders that you have already placed also fall under existing stock.
There is no end date by which your existing stocks must be finished. But you must be able to demonstrate that it actually concerns existing stock. For example, with an order list or invoice.
Are you an importer or producer? Then the statutory measures will apply to your stock after 3 July 2021. This stock has not yet been offered on the market at that time.
Yes, you may sell disposable plastic cups. But the cups must have a mandatory marking. The marking shows that the cup is made of plastic and does not belong in the environment.
From 1 January 2023, extended producer responsibility for disposable plastic cups will apply. This means that you contribute to the collection of the cups and the prevention of litter.
In the coming years, the government will also take extra measures against the use of plastic disposable cups and meal packaging. The government is still working out these measures.
Disposable cups made of styrofoam or oxo-degradable plastics have been banned since 3 July 2021. In addition, from 1 July 2023, you may no longer give customers free plastic disposable cups for takeout and delivery. From 1 January 2024, you may no longer offer disposable plastic cups in places where people use them directly, such as in offices and snack bars.
The legislation also applies to products that are partly made of plastic. For example, because they have a plastic coating. Check which measures apply to the product if it partly consists of plastic.>
The rules also apply to disposable products made from recycled plastic. Recycling plastic is good for the environment. By recycling you emit less CO2. But recycled plastic does not degrade in nature either. So, the problems it causes in nature and the sea are the same as with ordinary plastic. Check which measures apply to the product when using recycled plastic.
The rules also apply to disposable products made from bioplastics (biobased or biodegradable). There are many types of bioplastics. For example, plastic made from corn, grain stalks, or sugar cane. It may be better for the environment to use non-fossil raw materials. But bioplastics do not break down fast enough in nature. So, bioplastic litter causes the same problems as regular plastic.
Ban on oxo-degradable plastic
All oxo-degradable plastic products are banned after 3 July 2021. These products appear to be biodegradable. But this is not the case. When the plastic comes into contact with oxygen and sunlight, it breaks down into small pieces. These microplastics end up in nature and are very harmful.
As an alternative, you can opt for reusable products. These are intended and made for reuse. Or you choose disposable products without plastic.
Disposable products that are allowed are made from:
paper
wood
other natural materials without additives or chemical changes
These products must meet all other European product requirements. Pay close attention to the rules for food contact materials. Materials intended to come into contact with food must meet stricter hygiene requirements.
Some products made from biobased materials do not resemble plastic due to the natural raw material, but are in fact plastic. You may only use products that consist entirely of natural polymers. In practice, additives are always used for bioplastics. That is why they fall under the legislation for disposable plastic.
There are also products made of water-repellent paper. Make sure to check whether such a product meets the requirements for food contact materials.
Are you not certain if a product is allowed as an alternative? The Netherlands Institute for Sustainable Packaging can inform you about materials for packaging.
Plastic tableware with bamboo is banned
The sale of plastic tableware with bamboo as a filler is not allowed. Read more about bamboo tableware (in Dutch).
For drinking cups, you must imprint the marking on each cup. For tobacco products and hygiene products, print the marking on the (primary) packaging. You do not need to mark packages smaller than 10 cm2.
Yes. You can find the standard markings in different languages ​​on the website of the European Commission. You print the marking in the language of the Member State where the product is marketed. This can also be in several Member States and several languages.
Yes. The product is partly made of plastic.
Do you have questions about the SUP legislation? Email your question to Afvalbeheer@RWS.nl. Or contact the Helpdesk Waste Management of Rijkswaterstaat.