Why measures against single-use plastics?
Plastic has many useful properties. But plastic waste is increasingly ending up in the oceans and seas (plastic soup). This can make fish and other marine animals ill. With the new Single-Use Plastics (SUP) guidelines, the European Union wants to reduce the plastic soup. The rules relate to the products that wash up most on European beaches. Good, affordable alternatives already exist for those.
Rules for disposable plastic cups and food packaging
Rules will be introduced for the use of disposable plastic cups and food packaging.
Customers will have to pay for disposable plastic cups and food packaging when they take out or have food or drink delivered.
For on-site use, there will be a complete ban on disposable plastic cups and food packaging.
Read more about the new rules for disposable plastic cups and containers.
Ban on single-use products and mandatory marking
Since 3 July 2021, there are a number of disposable plastic products you may no longer market. You must also print a marking on the product or on the packaging for certain products. Read more about the ban on single-use products and mandatory marking.
Deposit on small plastic bottles
Since 1 July 2021, small plastic bottles for soft drinks and water have been subject to a deposit (statiegeld). Read more about this at statiegeldnederland.nl (in Dutch).
Deposit on beverage cans
A deposit on cans for water, soft drinks, beer, and other low alcoholic drinks will be introduced. On every can a deposit of at least €0.15 (15 cents) will be charged. This measure will come into force on 1 April 2023. Read more.
Responsibility for producers
An extended producer responsibility (EPR) will apply to a number of products. This means that as a producer, you contribute to the collection of the waste and the clearing up of litter. The EPR will come into effect step by step from 1 January 2023. The scheme will be further developed.
EPR from 1 January 2023 applies to:
Tobacco products with filters
Single-serve food packaging
Disposable cups
Bags and wrappers
Light plastic carrier bags
Beverage packaging
Balloons
Wet wipes
EPR as of 31 December 2024: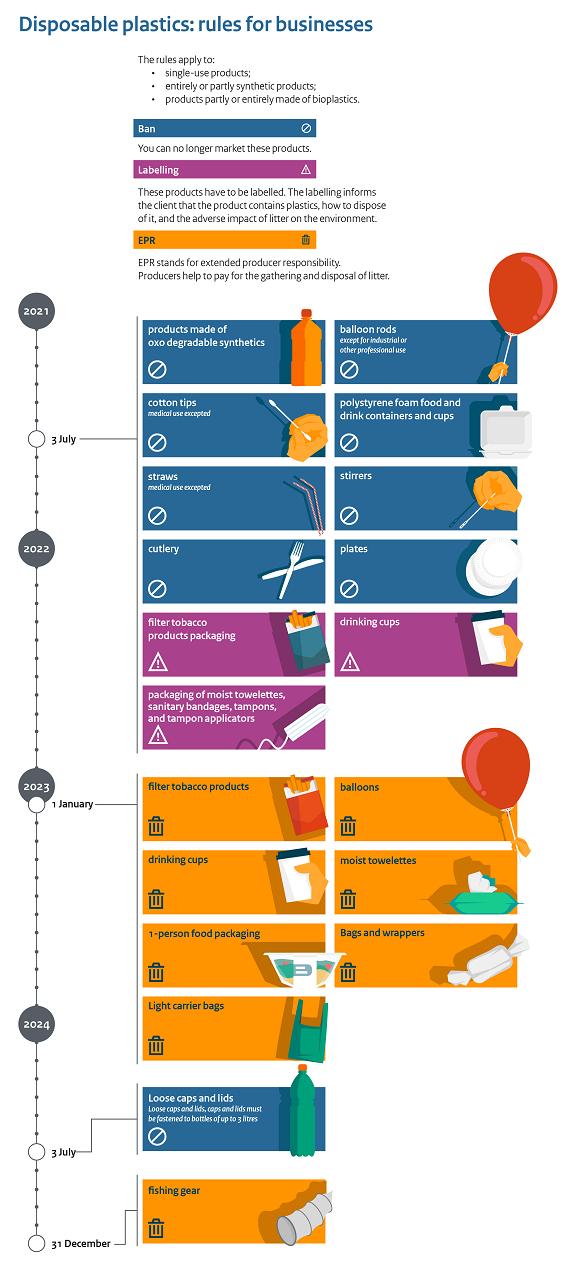 Rules for bottles and beverage packaging
For bottles and beverage containers, the caps must remain attached to the bottle or container during use. This rule will take effect from 3 July 2024.
This does not apply to:
bottles and beverage packaging for medical use
bottles and beverage packaging of more than 3 litres
From 2025: bottles made from recycled material
From 2025, 25% of the material of a PET bottle (polyethylene terephthalate) must consist of recycled material.
From 2030, 30% of the material of all bottles must be recycled.
The exact effective date of these rules is not yet known. The European standardisation body is still working out exactly what conditions the products must meet.
Frequently Asked Questions